Click on the name of any client to view our work with them.


TOBEY PUBLISHING
Consumer book and magazine publisher with a wide variety of content.


MUSTARDSEED & MOONSHINE
Coordinating a B2B website with a new catalog designed for dual purposes.


BRODART BOOKS
Adding life to an aging international book distributor.


SALEM PRESS
Sales and marketing enjoyed a complete re-design at a venerable reference publisher.


MULLICA HILL GROUP
Industrial-strength refrigeration.


EVANGELINE
An elegant, small French restaurant in Portland, Maine.


ZMAGS
Electronic marketing for an electronic marketer.


ENCOREAGAIN
Helping to rid the universe of death through improved reincarnation.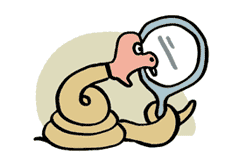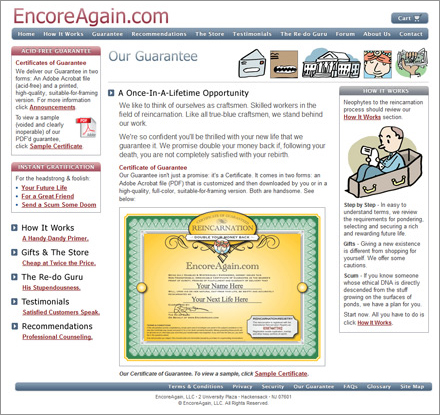 A humor site promising targeted reincarnation. To quote from the website: "We're so confident you'll be thrilled with your new life that we guarantee it. We promise double your money back if, following your death, you are not completely satisfied with your rebirth."





THE WEBSITE


EncoreAgain.com is for readers. Lots of absurd language. Fun in its own, demented way.





THE CERTIFICATE


EncoreAgain has some nifty technology behind it that we helped deploy. The site automatically generates a high-resolution, custom "Certificate" in PDF format. Curious? Click Sample Certificate. Better yet, Make Your Own. It's free.