Click on the name of any client to view our work with them.


TOBEY PUBLISHING
Consumer book and magazine publisher with a wide variety of content.


MUSTARDSEED & MOONSHINE
Coordinating a B2B website with a new catalog designed for dual purposes.


BRODART BOOKS
Adding life to an aging international book distributor.


SALEM PRESS
Sales and marketing enjoyed a complete re-design at a venerable reference publisher.


MULLICA HILL GROUP
Industrial-strength refrigeration.


EVANGELINE
An elegant, small French restaurant in Portland, Maine.


ZMAGS
Electronic marketing for an electronic marketer.


ENCOREAGAIN
Helping to rid the universe of death through improved reincarnation.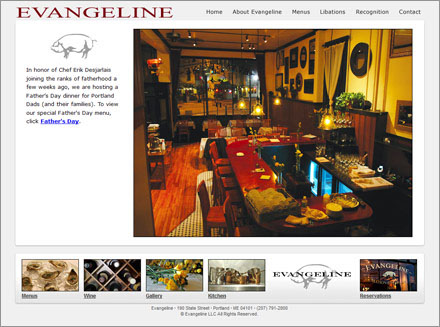 In Evangeline, Chef Erik Desjarlais created a world-class destination in the heart of Portland, Maine. This intimate, gourmet restaurant was promoted by its relaxed atmosphere and meticulous preparation of local ingredients using a very traditional French technique.







THE WEBSITE


This lovely place closed its doors in 2010. But the website lives on: Evangeline still has a "Contact" tab but pursuing it will be futile. If you like charm (and who doesn't) a tour of the site is fun.